---
TU-DASE preamble
Remarque

:
The Toulouse University (TU) "Data Assimilation for Scientists and Engineers" (DASE) project gathers online learning resources on data assimilation methods and their application to a wide range of physical domains.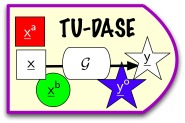 Texte légal

:
Resources of the TU-DASE project are diffused under  Creative Commons (CC) license BY-SA that imposes to respect:
Attribution (BY): you must attribute the work in the manner specified by the author or licensor (but not in any way that suggests that they endorse you or your use of the work).

Share Alike (SA): if you alter, transform, or build upon this work, you may distribute the resulting work only under the same or similar license to this one.
Fondamental

:
The following open learning articles are chapters that can be red independantly or sequentially. The author of these chapters is Olivier THUAL. This ressource is to be references as: